Home » Bagpipes, Accessories, CDs and DVDs » Bagpipe Bags, Covers & Cords » Bag Covers and Cords &raquo Deluxe Velveteen Bag Cover With Wool Trim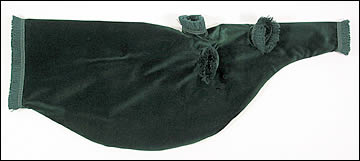 Deluxe Velveteen Bag Cover With Wool Trim
Quantity in Basket:
None
Price:
$65.00
Shipping Weight:
1.00 pounds
Deluxe Velveteen Bagpipe Bag Covers With Wool Trim (Green With Green Wool Trim Shown) With a zipper to ease installing or removing the bagpipe cover from the pipe bag, and Dycem anti-slip patch to hold the pipe in place when playing.
Please call for bagpipe zip-up cover color combinations not listed as we may be able to make them up for you.
As this is a made to order item, please allow for a delivery time of approximately two weeks.