Home » Bagpipes, Accessories, CDs and DVDs » Pipe Chanter Reeds &raquo Clanrye Synthetic - Pipe Chanter Reed (IN STOCK) SALE $49.95 reg $69.95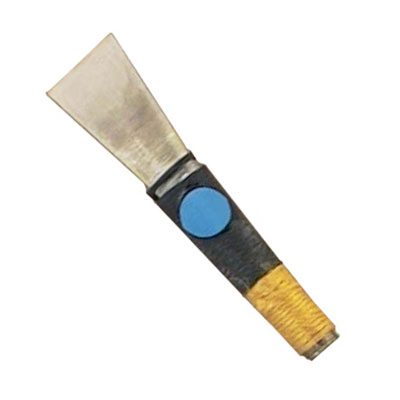 Clanrye Synthetic - Pipe Chanter Reed (IN STOCK) SALE $49.95 reg $69.95
Quantity in Basket:
None
Price:
$49.95
Shipping Weight:
0.20 pounds
Bagpipe Chanters Strength and Handling
The Clanrye Bagpipe Chanter Reeds are fixed strength reeds, which cannot be modified in any way. Because of this, the synthetic reed must simulate a "played in" cane reed. A new cane reed is harder to blow at first, (if it stayed the same strength, the player would have problems keeping up the blowing pressure). We have measured the airflow and pressure from a constant sourse to test and gauge the strengths equated to "played in" cane reeds, and therefore offer three strengths.
Color Code Strengths Airflow (C.F.P.H) Press (P.S.I)
Yellow Easy 20-21 0.5- 0.75
Red Medium 23-27 0.8- 1.1
Blue Hard/Strong 30 1.4
Note - Clan Rye Strength - Easy is equal to a cane Very Easy, Medium is equal to a cane Easy, Strong is equal to a cane Medium.