Home » Kilts, Jackets & Accessories » Kilts, Jackets & Plaids &raquo Argyle Jacket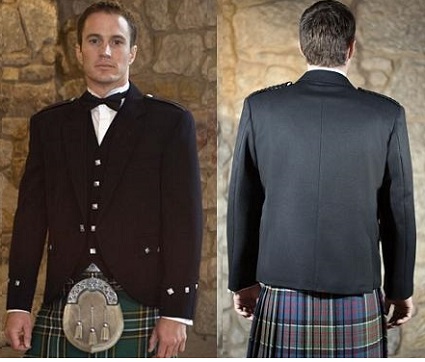 Argyle Jacket
Quantity in Basket:
None
Price:
$300.00
Shipping Weight:
5.00 pounds
Argyle Jacket - By subtly changing the accessories worn with it, an Argyle Jacket can easily alter its formality, for either day or evening wear. With a flattering cut, the Argyle Kilt Jacket will look great on men of all shapes and sizes. Rest assured this isn't a budget import-Pipeline Celtic Themes Highland Wear is respected worldwide as one of the finest in specialist Scottish tailoring. Our argyle formal jackets are made from top quality Barathea new wool cloth, and are 100% produced by specialist tailoring in Scotland. The Argyle Kilt Jacket will suite almost any social occasion, such as Dinners, Burns Suppers, Balls, Ceilidhs or other Dances: Weddings, Graduations, Christenings, the Highland Games or simply as day wear. The Argyle Jacket is generally worn open and without a vest for day time use. A 5 button vest and wing collar shirt with a choice of bow tie or rouche (cravat) tie can be added for more formal events.
Dear Pipeline,
Just a little note to say thank you for the speedy service.
I also appreciate the quality and fit of the argyle kilt jacket itself.
Sincerely Yours,
Malcolm S.