Home » Bagpipes, Accessories, CDs and DVDs » CDs &raquo Live at the El Mocambo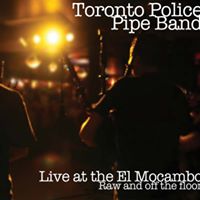 Live at the El Mocambo
Quantity in Basket:
None
Price:
$19.95
Shipping Weight:
0.20 pounds
Live at the El Mocambo - On May 15, 2010, the Toronto Police Pipe Band took the main stage at Toronto's storied El Macambo Club for an unforgetable night of music. The band has been beating the edges of pipe band music tradition for over two years and, in doing so, helped to get people to think about music in a different way.The show this night includes all their much loved selections of competition music in addition to almost a full hour of brand new concert selections.
01. Breton March & Gavotte
02. Tribute to John McLellan, DCM, Dunoon
03. Idiomatica
04. An Adaption of Alex Duthart's "Salute to Max Rayne"
05. Solo Piping: Michael Gray
06. Strathspays & Reels
07. Air & Concerto Ascenseur (Elevator Concert)
08. Variations an a theme of Good Intentions
09. Air & Jigs
10. Pibroch
11. Solo Piping: Ian K MacDonald
12. Hornpipes
13. Gallus No 3.