Home » Kilts, Jackets & Accessories » Hats & Hackles &raquo Deluxe Black Glengarry Hat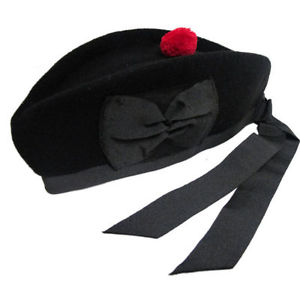 Deluxe Black Glengarry Hat
Quantity in Basket:
None
Price:
$80.00
Shipping Weight:
1.00 pounds
Deluxe Black Glengarry hat, made in Scotland by Robert MacKie.
Robert Mackie of Scotland, established in 1845, is renowned for the quality of their traditional Scottish hats. The finest quality & workmanship is evident in these hats they will last longer will not fray and fall apart, like many other Glengarries do. They will last through years of heavy use.
Available in the following sizes. (UK Sizes)
7, 7 1/8, 7 1/4, 7 3/8, 7 1/2, 7 5/8, 7 3/4,
Please note that these hats are sold by the UK size, not US, so use the following chart to select the correct UK size.
To determine your size:
Use a cloth tape measure to find the circumference of your head (in centimeters). If you dont have a cloth tape use a piece of string then transfer the string length onto a ruler. Measure about 1" above the ears.
Cms -
UK size
- US size
56 &nbsp - &nbsp
7
&nbsp &nbsp &nbsp &nbsp - &nbsp 7 1/8
57 &nbsp - &nbsp
7 1/8
&nbsp - &nbsp 7 1/4
58 &nbsp - &nbsp
7 1/4
&nbsp - &nbsp 7 3/8
59 &nbsp - &nbsp
7 3/8
&nbsp - &nbsp 7 1/2
60 &nbsp - &nbsp
7 1/2
&nbsp - &nbsp 7 5/8
61 &nbsp - &nbsp
7 5/8
&nbsp - &nbsp 7 3/4
62 &nbsp - &nbsp
7 3/4
&nbsp - &nbsp 7 7/8