Home » Kilts, Jackets & Accessories » Hats & Hackles &raquo Deluxe Black Glengarry Hat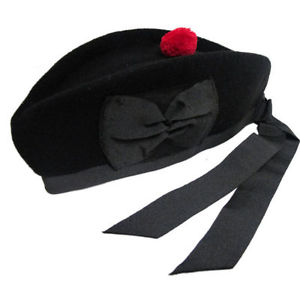 Deluxe Black Glengarry Hat
Quantity in Basket:
None
Price:
$85.00
Shipping Weight:
1.00 pounds
Deluxe Black Glengarry hat, made in Scotland by Robert MacKie.
Robert Mackie has been making traditional Scottish 'bonnets' in the heart of Ayrshire since 1845. With a reputation for exacting standards, we're the only authentic Scottish manufacturer of Glengarries and Balmorals in the world.
We're very proud of our heritage. Our bonnets trace their origins to the early ceremonial headwear of Scottish regiments, and today we supply foreign forces, leading pipe bands and Scottish Clan organisations around the world.
Our 'Made in Scotland' label stands for quality and craftsmanship. Made from pure wool, every hat is hand-sewn to measure by one of our Scottish workers. Our bonnetmaking techniques have been passed down in Stewarton through generations; it takes years to become fully qualified in the craft.
Our Balmorals and Glengarries maintain their appearance and, if dry-cleaned or hand-washed carefully, will last a lifetime.

Available in the following US sizes.
7, 7 1/8, 7 1/4, 7 3/8, 7 1/2, 7 5/8, 7 3/4, 7 7/8

These hats are sold by US sizes, they are from the UK and are stamped in UK sizes (Which is one size smaller than US sizes).

To determine your size:
Use a cloth tape measure to find the circumference of your head (in centimeters). If you dont have a cloth tape use a piece of string then transfer the string length onto a ruler. Measure about 1" above the ears.

Cms - UK size - US size


55 - 6 7/8 - 7
56 - 7 - 7 1/8
57 - 7 1/8 - 7 1/4
58 - 7 1/4 - 7 3/8
59 - 7 3/8 - 7 1/2
60 - 7 1/2 - 7 5/8
61 - 7 5/8 - 7 3/4
62 - 7 3/4 - 7 7/8