Home » Bagpipes, Accessories, CDs and DVDs » Small Pipes and Reeds » Small Pipe Reeds and Accessories &raquo Ezeedrone Reeds for McCallum (fred Morrison) Scottish Small Pipes (IN STOCK)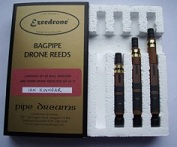 Ezeedrone Reeds for McCallum (fred Morrison) Scottish Small Pipes (IN STOCK)
Quantity in Basket:
None
Price:
$80.00
Shipping Weight:
0.20 pounds
Ezeedrone Scottish Small Pipe Drone Reeds - Another fine product from the makers of Ezeedrone Highland Bagpipe Reeds, this version is designed for McCallum (Fred Morrison) Small Pipes in the Key-A, with Bass, Tenor & Baritone Drones. They have a great sound and are easy to set up.
Dear Gerry
Thank you so much for the 3/4 Ezeedrone reeds. The pipe sounds great. We love your store.
We will be back!
Sincerely Mary & Lee S.