Home » Bagpipes, Accessories, CDs and DVDs » Small Pipes and Reeds » Small Pipes, Shuttle Pipes &raquo Fred Morrison Reel & Border Pipes (IN STOCK)
I let the pipes set in my home office a day to give them a chance to acclimate to my temp and humidity before trying.
Looking them over, they are impressive, very well finished, an expensive looking set of pipes.
As per written and video recommendations by the Lowland and Border Pipe Society, I first strapped on the bellows, tested, then connected it to the bag and shut the drones off.
I filled the bag to 80 or 90 percent full and played a note evenly, just squeezing the bag with no bellows action. Did that a number of times to get the feel of the bag to chanter. I love the chanter's voice, and as you told me it takes more air and not nearly as touchy as a set of Scottish Smallpipes, much better and more volume.
I think I'm falling in love with the Border Pipe, can't wait until I have the bellows mastered, I think they will be a ton of fun and very addictive.
Cheers!
Ron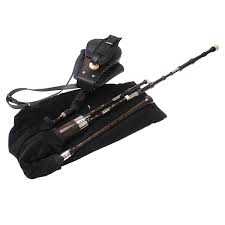 Fred Morrison Reel & Border Pipes (IN STOCK)
Quantity in Basket:
None
Price:
$2,209.35
Shipping Weight:
16.00 pounds
Fred Morrison Border pipes are an increasingly popular choice for pipers.
In the key of A, Fred Morrison Reel & Border pipes have the same fingering style and familiar 'crack' of the Highland pipes but have a softer, sweeter tone. This makes them ideal for playing with other instruments in groups and sessions. They are also an excellent solo instrument.
Our Fred Morrison Reelpipes are the bellows blown model. On Fred's recommendation, the pipes are fitted with a specially designed synthetic bag, which help the drones to sit up across the chest and sit very well at the neck.
The luxury hand made bellows are fully padded with hand-sewn plush leather cushions on the front and back to ensure comfort and ease of play. The bellows are made from the highest quality components to ensure many years of great playing.
These pipes are Celtic Engraved. Drone switch is included with this set also Deluxe Pipe Case and Extra Pipe Chanter Reed.
* Please Note: As of January 2, 2017, African Blackwood was placed on the endangered species list by CITES. As a result, we will no longer be shipping any African Blackwood products outside the USA.