Home » Bagpipes, Accessories, CDs and DVDs » Pipe Chanter Reeds &raquo Gilmour Pipe Chanter Reeds (IN STOCK)
Gerry,
Thanks a bunch for your prompt service on my reed order. Love the crisp clear vibrant sound.
Yours Aye & Semper Fi Don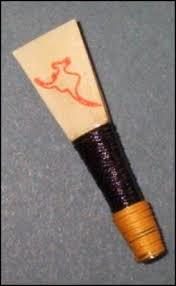 Gilmour Pipe Chanter Reeds (IN STOCK)
Quantity in Basket:
None
Price:
$15.50
Shipping Weight:
0.50 pounds
Gilmour Pipe Chanter Reeds - Established in Australia since 1990 and made by a piper for pipers, the Gilmour Reed is designed to produce a full bright sound which is combined with a robust and vibrant tone. It is because of these inherent qualities that the Gilmour Reed is played by Pipe Bands and Soloists worldwide.
With an established tradition of using only the finest cane available, Gilmour Reeds are handcrafted from quality imported cane. All cane used in the manufacturing process is personally selected. Every reed is not only hand finished, but also tested for pitch, scale, vibrancy and tonal quality prior to dispatch.
The Gilmour Reed is easily recognisable world-wide by the Red Kangaroo and Gilmour name stamp on the blades.
Selecting a Pipe Chanter Reed

You never see a professional player struggling to play the bagpipe; they always seem relaxed and comfortable. The pipe bag is the correct size, is 100% airtight, stocks are tied in correctly and have no cracks, the blowpipe is the correct fit, the valve is functioning properly and all the joints are hemped correctly (see the past 3 articles). If you have corrected these problems and the pipe is still difficult to play the next thing to address is the pipe chanter reed . Many pipers get into the bad habit of trying to blow reeds that are much too strong for them. Nothing can hamper your technique and expression more than trying to play a bagpipe reed that is too hard for you. Pipe bands are one of the biggest contributors to this problem by insisting that reeds must be stiff and difficult to blow in order to contribute to the sound of the band, don't get suckered into this myth. It is not the goal of this article to teach pipe chanter reed adjustment, (that will come later) but rather to help in your selection of a reed that is within your playing comfort level. The question I am asked the most is "What strength reed should I play easy, medium, strong or something in between"? The answer is none of the above, you have to play a reed that is within your own personal comfort level. What may be a strong reed for one person might be a medium reed for another person.

How do I choose a Gilmour pipe chanter reed

Visual Test:
1. The reed should have a nice clean look with no splits down the length of the cane and no chipped corners.
2. Both reed blades should be the same thickness and must fit tight together with no gaps.
3. The blades at the open end should have a nice elliptical shape.

Airtight Test:
Hold the reed in one hand and place a finger over the cane tip's end of the reed to seal it and blow through the reed from the staple end, run a finger of your other hand down both sides of the reed to ensure that no air is leaking from the blades. If the reed is leaking air discard it.

Chanter Test:
Now place the reed of your choice into the reed seat of the pipe chanter and take a deep breath. Form a tight seal with your lips around the lacquered hemp on the pipe chanter reed (not over the hemped end of the pipe chanter) and play the scale from Low A to High A and then back down to Low A. If you can't do this in one breath - the reed is too strong for you to play comfortably, select another reed. When you find a reed that will pass this test, that is the correct strength reed for you in your present playing condition. By following these three steps you should be able to select a reed that will give you many hours of comfortable playing.