Home » Kilts, Jackets & Accessories » Kilts, Jackets & Plaids &raquo Scottish 8 Yard Made to Measure Kilt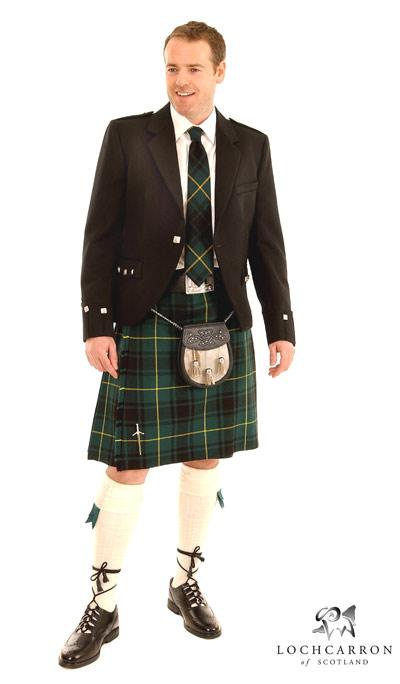 Scottish 8 Yard Made to Measure Kilt
Quantity in Basket:
None
Price:
$605.00
Shipping Weight:
6.00 pounds
*

Gents 8 Yard Made to Measure Kilt - All our Scottish kilts for men are made from 100% pure new wool cloth, and are 100% produced by specialist tailoring in Scotland. Recognised worldwide as kilt makers of the highest distinction, Pipeline Celtic Themes produces garments to give you many years of pride and pleasure. Our 8-yard kilt gives you deep pleats for that real kilt swing as you move. For the perfect hang we fit two sturdy leather straps and buckles to the waist and one on the hip. The front edge has two fringes in the authentic tradition. We place two almost invisible belt loops at the back. We can pleat to the sett or to the stripe at no extra charge. There is no comparison with imported copies sold elsewhere.

8 Yard Kilt Fabric
Kilt tartans are made in four different methods: 13oz worsted, 16oz double width, 16oz single width and old and rare collection. Please note not all tartans are made in all four methods, so sometimes you have no choice as to what fabric to choose. Please let us know your tartan choice and we will advise you as to your fabric selection.

Adult Kilt Selection
K1 Medium weight 13oz worsted $530.00
K2 Heavy weight 16oz worsted double width $565.00
K3 Heavy weight 16oz worsted single width $680.00
K4 13oz Old and Rare Collection $615.00
Youth Kilt Selection
K5 13oz 6yard $400.00
K6 13oz 7 yard $435.00

We can pleat to the sett or to the stripe at no extra charge.

How to Measure for your kilt:
Waist Measurment - in inches around your waist at the navel (this measurment should be snug)
Hip Measurment - in inches around the widest part of your hips, buttocks (this measurment should be taken loose)
Height - in inches taken in stocking feet.

If you have any questions on measuring or selecting a tartan please feel free to call us.



Dear Laura & Gerry.
Thank you for the fine Robertson Modern Kilt. It is beautiful and a perfect fit.
Sincerely
John M.