Home » Bagpipes, Accessories, CDs and DVDs » McCallum Bagpipes &raquo McCallum AB2 Deluxe Bagpipes Imitation Ivory (IN STOCK)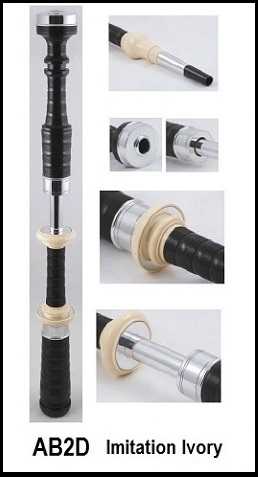 McCallum AB2 Deluxe Bagpipes Imitation Ivory (IN STOCK)
Quantity in Basket:
None
Price:
$1,150.00
Shipping Weight:
12.00 pounds
McCallum AB2 Deluxe Bagpipes - Feature - Imitation ivory projecting mounts, with alloy plates recessed into the top surface of the projecting mounts, beaded alloy ferrules, ringcaps and slides, imitation ivory bushes, alloy and imitation ivory mouthpiece with McCallum plastic pipe chanter.

Comes with McCallum Plastic Pipe Chanter, zippered synthetic pipe bag, bag cover, silk pipe cords, & Ezeedrone Drone Reeds.

All bagpipes are professionally set up and tested to meet with your individual requirements before we ship to you.

We have included an adjustable length blowpipe at no extra charge with this set. This blowpipe will allow you to customize the bagpipe to your individual height requirements.

* Please Note: As of January 2, 2017, African Blackwood was placed on the endangered species list by CITES. As a result, we will no longer be shipping any African Blackwood products outside the USA.