Home » Bagpipes, Accessories, CDs and DVDs » McCallum Bagpipes &raquo McCallum P3 Bagpipe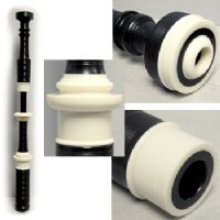 McCallum P3 Bagpipe
Quantity in Basket:
None
Price:
$925.00
Shipping Weight:
12.00 pounds
McCallum P3 Bagpipes - These Acetyl bagpipes have virtually the same sound as quality Blackwood bagpipes. The drones and chanter have identical dimensions to the Blackwood range of McCallum Bagpipes.
The McCallum P3 Bagpipes have fully beaded and combed drones. Imitation ivory projecting mounts, ferrules and ring caps. Plastic pipe chanter, zippered Canmore pipe bag, bag cover and silk cords, M/G drone reeds.
Professionally set up and tested to meet with your individual requirements before we ship to you.