Home » Bagpipes, Accessories, CDs and DVDs » Bagpipe Cases &raquo The Pipe Caddy (In Stock)
Thanks! It arrived over the weekend....love it!
d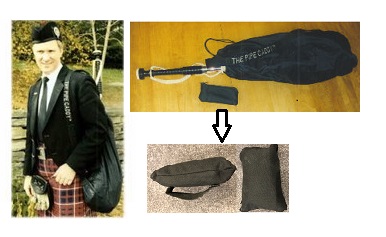 The Pipe Caddy (In Stock)
Quantity in Basket:
None
Price:
$49.75
Shipping Weight:
1.00 pounds
The PIPE CADDY bagpiper case is designed to conveniently carry any set of bagpipes when a conventional bagpipe carrying case is unavailable. Designed by a piper for pipers, this unique back pack allows you to carry your bagpipes without breaking down the bass drone. Ideal for parades, ceremonies or any piping event. Comes with its own case that fits on your belt. This bagpipe caddy is a must have for any piper.