Home » Bagpipes, Accessories, CDs and DVDs » Bagpipe Accessories &raquo Bagpipe Stand (IN STOCK)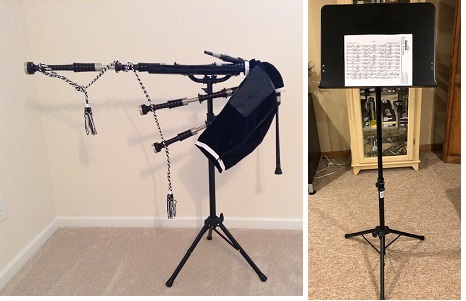 Bagpipe Stand (IN STOCK)
Quantity in Basket:
None
Price:
$99.00
Shipping Weight:
5.00 pounds
Pipe stand.
Why do I need a Bagpipe Stand ?
When your Bagpipes are in a case they are out of sight and you tend to forget about them.
Owning a Bagpipe Stand does the following:
*The bagpipe holder show cases your investment so that people can appreciate your Scottish bagpipes!
*This folding stand for bagpipes is a constant reminder that you need to do something with them.
*Ease of use makes them available to practice with immediately.
*Pipers with Bagpipe Stands practice more than pipers without.