Home » Bagpipes, Accessories, CDs and DVDs » Gibson Bagpipes &raquo Gibson Bagpipe: (IN STOCK) Imitation Ivory Projecting Mounts, Stainless Steel Slides & Ferrules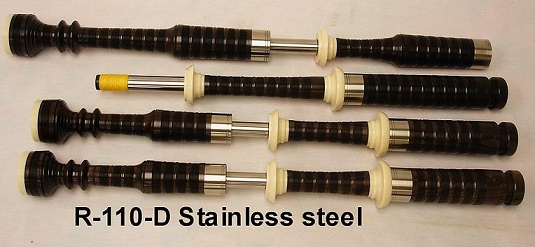 Gibson Bagpipe: (IN STOCK) Imitation Ivory Projecting Mounts, Stainless Steel Slides & Ferrules
Quantity in Basket:
None
Price:
$1,640.00
Shipping Weight:
10.00 pounds
Gibson Highland Bagpipe. Imitation Ivory Projecting Mounts, Stainless Steel Slides & Ferrules. This set comes complete with an adjustable length blowpipe and a 2 part removable water trap.
Professionally Set Up with
Plastic pipe chanter.
Pipe chanter reed.
Zippered Canmore pipe bag.
Synthetic drone reeds.
Pipe bag cover.
Silk pipe cords.
* Please Note: As of January 2, 2017, African Blackwood was placed on the endangered species list by CITES. As a result, we will no longer be shipping any African Blackwood products outside the USA.