&raquo Bagpipeskin Case New Design (Grouse) (IN STOCK)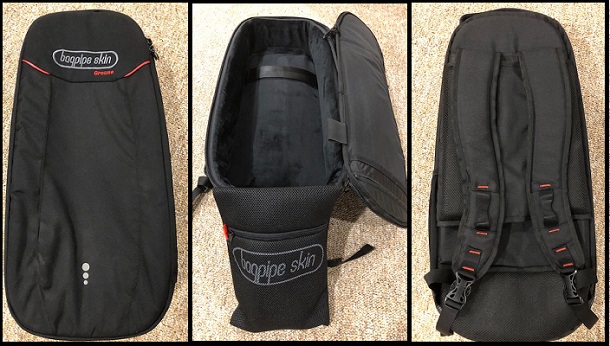 Bagpipeskin Case New Design (Grouse) (IN STOCK)
Quantity in Basket:
None
Price:
$131.50
Shipping Weight:
6.00 pounds
Bagpipeskin Piper Case - This is THE ALL NEW GROUSE Bagpipe Case this is a black case with a very large front pocket approzimatly 24" X 10" and much improved gig bag (For all your accessories), rain cover the padded straps and padded back make this a great case to carry.
Features include:
- YKK zip
- Durable "Hypalon" handle
- Comfortable Backpack Straps
- Ergonomic Pad for comfortable travel
- Removable pouch (Gig bag) for all your accessories
- Side strap Protection
- Hard plastic structure bagpiper pipe case to avoid damage during travel
- Outside pocket for storage of chanter & sheet music
- Convenient pocket for accessories.

Dimensions: Width -200mm, Depth 170mm, Length 600mm,
Interior: 600mm/23.5" x 210mm/ 8.25" x 180mm/ 7"
Exterior 650mm/ 25.5"x 260mm/10.25" x 210mm/8.25".
Whats the best way to store my pipes in a Bagpipe Skin case?
Storing Your Bagpipes Correctly in Their Case
Customers come into the shop every day with bagpipes that are nicked, scratched and have broken and chipped mounts. Most of this damage is done by incorrectly storing the bagpipes in the pipe case.

Here is an inexpensive way to store and protect your bagpipes, and all you need is a towel.

Open the case

Place a large towel so that it drapes down both sides of the case and covers the bottom.

With the blowpipe and chanter removed, fold the pipe bag under the drones and place on top of the towel.

Tuck the bass drone under the towel. This will separate it from the tenor drones.

Use one flap of the towel to separate each tenor drone and the bass bottom section.

Place the blowpipe and pipe chanter on top of the flap separating the drones and cover with the other flap.

The pipes are covered and all the dead space inside the case is filled. All parts of your bagpipe are now secure and protected.

* Always remove the blowpipe and place a reed protectoron the pipe chanter when storing your bagpipes; it will allow the pipe bag and pipe chanter reed to dry and save the hemp on the blowpipe from rotting.