&raquo Fagerstrom Technopipes - Uilleann Version (IN STOCK)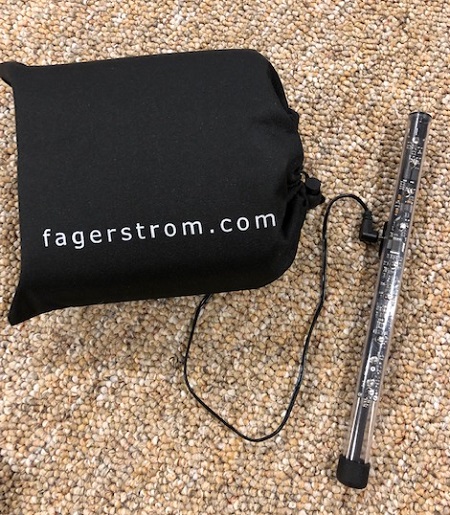 Fagerstrom Technopipes - Uilleann Version (IN STOCK)
Quantity in Basket:
None
Price:
$450.00
Shipping Weight:
1.00 pounds
This is the New Version
The octave switching is made by holding a simple bag under your arm and pressing it to go into the second octave.
This makes the octave switching much easier,
This is the Uilleann pipes version of the Fagerstrom Technopipe.
It is not a v-Pipe. It only has the very basic Uilleann pipes functionality: Uilleann sound samples, low D sensor, a touch octave sensor, and of course it works as a MIDI controller like the other versions. Both Uilleann and GHB fingerings are built in (but only Uilleann sound).
It does not have regulators, and it does not do glissandos. The finger spacing is the same as that of the GHB version Technopipe. It does not have keys on the chanter but a full chromatic scale can be achieved by cross-fingering. We have received great help from the Swedish Uilleann pipes Erik Ask-Upmark; the final development however, has been made together with Michael Eskin, the US Uilleann piper and iOS app developer. In fact, the fingering and octave switching method corresponds exactly to that of his famous Uilleann pipes iPad app.
The Uilleann version of the Technopipes can work as a MIDI controller for the iPad app with its built-in rich sound samples.
COMES WITH A BLACK CHANTER
INCLUDES: BATTERY and HEAD SET!


I would recommend the app "Universal Piper" for iPhone. It has very nice sounds.
The Technopipe is then run in MIDI mode and needs an adapter for the iPhone.
I would recommend the Korg plugKEY.
With this you can output the sound from the iPhone through the earphone jack on the plugKey.
The sound can then be input to the PA system/mixer.

For complete instructions, view or download the User Manual .


More information, pictures, and video clips are available at : www.facebook.com/michaeleskin
And here are a couple of Youtube demo videos: Demo 1 Demo 2
Available only in black (the clear version is pictured above.)