Home &raquo Services
Services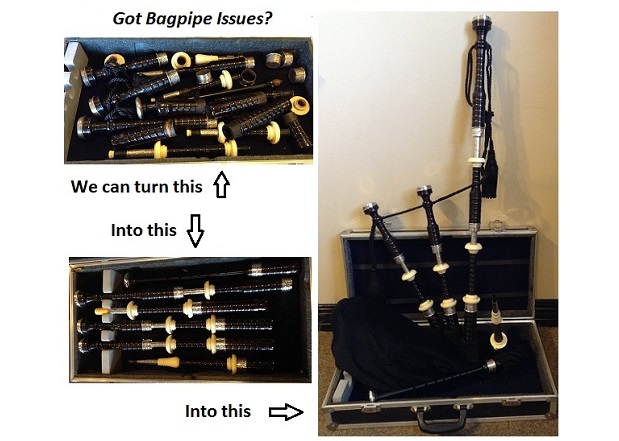 Bagpipe services available:

$10 Install and set up drone reeds and pipe chanter
$15-Install Tone Enhancers into zipper style pipe bag
$20-Shorten blowpipe
$25-Install a collared synthetic or hybrid pipe bag
* Add $10 if adding Canister type system
$35-Bagpipe Diagnostic Test: we will play your bagpipe and offer our recommendations as to how the instrument can be improved.
$45-Complete re-hemping of pipes
* Add $16 for hemp
$79-Annual Tune Up: clean and polish pipes, brushing and oiling bores, remove old hemp, complete re-hemping, secure loose mounts

Goods sold on consignment: 70% (Customer) - 30% (Pipeline) split.

For more information, Email us at: info@pipeline-bagpipes.com


PIPING TIPS

Come visit our Piping Tips Pages , where we've compilied the best Bagpipe Tips to make your piping more enjoyable. These articles cover everything from care and maintenance, to tuning, to tips for playing in public, and are applicable to pipers of all experience levels.

GOING TO SCOTLAND OR IRELAND?

If you are planning a trip to Scotland, Ireland, England or Wales, consider staying at Braehead House, a fully furnished vacation rental home on the Isle of Arran, in Southwest Scotland. For great travel package deals in the UK, take a look at this special offer from CIE Tours.
Services