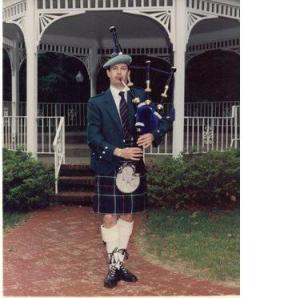 Gerry Rooney
is the founder and owner of Pipeline Celtic Themes. He was born and raised in Uddingston, near Glasgow, Scotland. His piping tuition began in the 1970s at the College of Piping in Glasgow, Scotland with Fred Morrison, Sr., P/M Angus J. McClellan, and P/M Angus MacDonald, M.B.E. In America, he studied Piobaireachd with James McIntosh M.B.E., Donald F. Lindsay and P/M George M. Bell. Between 1983 and 1985 he earned over 40 first and second place prizes in various piping competitions, including Piper of the Day at the Delco Scottish Games in 1985. He competed in the Open Grade Competition in Scotland in 1986, and was asked to join the Strathclyde Police, whose pipe band at the time was in the middle of a six year winning streak at the World Championships. In 1987 he was forced into temporary retirement due to a serious hand injury (from a circular saw), and was told he would never play again. Despite the injury, he made a comeback in 1993 and took over 45 first and second place prizes including Piper of the Day at the Capital District Scottish Games in 1994. Gerry is a member of the E.U.S.P.B.A. and the Isle of Arran Piping Society, on the Isle of Arran, Scotland, where he keeps a holiday home called
Braehead House
. He has been interviewed by newscaster Jane Hansen, and has appeared as a featured bagpipe instructor on NBC's 'Today'. For ten years, he served as the piping instructor at West Point Military Academy and continues to give piping tuition.
Order from us online, or visit us at:
Pipeline Bagpipes, LLC
112 St. Andrews Drive
Greentown, PA 18426
Showroom Hours are By Appointment Only.

Phone Orders:
(973)513-5931 or (570) 857-7092 or Toll Free: 1 (877)367-5458
Monday thru Sunday 10:00 AM till 9:00 PM.
Website Orders:
24 hours 7 days a week.
Email:
info@pipeline-bagpipes.com
Directions:
We are just 1 hour and 45 minutes from New York City, near Lake Wallenpaupack.
Take Rt 84 West to Exit 26 / Rt 390 Promised Land / Tafton
Turn left onto Rt 390
1st Right onto Old Greentown Road
1st Right onto Shiny Mountain Road
Turn left onto St. Andrews Drive

Click below for Google Maps Directions: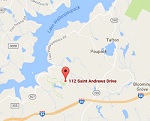 About Us (Store Hours, Location, Etc) &nbsp

Sitemap

&nbsp Back to Previous Page
Privacy Policy &nbsp Pipeline Bagpipes - 877-367-5458