&raquo Staghorn Handle Sgian Dubh (IN STOCK)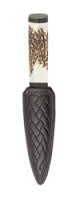 Staghorn Handle Sgian Dubh (IN STOCK)
Quantity in Basket:
None
Price:
$57.75
Shipping Weight:
1.00 pounds
Scottish Staghorn Sgian Dubh with Black Celtic Embossed Leather Sheath.
The stag horn knife handle is finished with blackwood on the back and top. Comes with a stainless steel blade engraved with The Sgian Dubh Co. logo.
Antler Sgian Dubh supplied in a Sgian Dubh Co black presentation box.