&raquo Glen Esk Harp Cantle Horsehair Sporran (In Stock)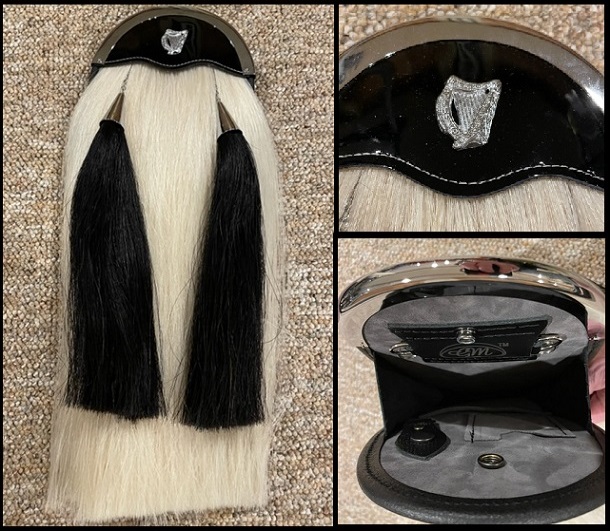 Glen Esk Harp Cantle Horsehair Sporran (In Stock)
Quantity in Basket:
None
Price:
$345.00
Shipping Weight:
2.00 pounds
Glen Esk Harp Cantle Horsehair Sporran. This quality horsehair sporran, with a patent leather cantle and chrome Harp Badge. The horsehair has wonderful color and feel. A wide pocket makes the sporran a convenient pocket for wallet and keys. Made in Scotland.
Features of the Plain Thistle Cantle Horsehair Sporran:
* Off-white horsehair front
* Black horsehair tassels
* Patent leather cantle with chrome trim
* Chrome Harp Badge
* Chrome cones
* Black grained leather back
* Full pocket
* Includes chain belt
HOW TO WASH A HORSE HAIR SPORRAN Since horse hair sporrans are made from real horse hair, you should clean your sporran the same way you would wash your own hair: using a good shampoo.
If there are kinks in the horse hair sporran, wash with shampoo and blow dry using a good flat brush - do this on a flat surface such as a table. Leave there to dry fully.