Home » Bagpipes, Accessories, CDs and DVDs » Blowpipes, Valves & Mouthpieces &raquo Oval Flexistick Available In 3 Size Choices (IN STOCK)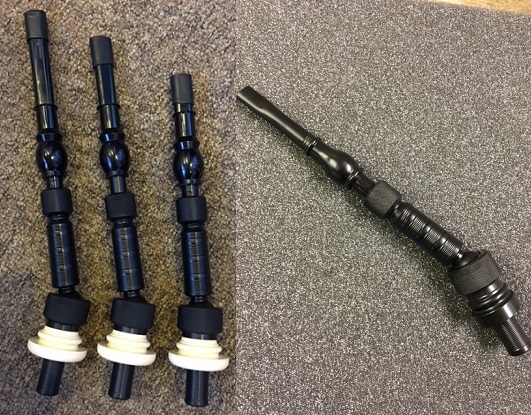 Oval Flexistick Available In 3 Size Choices (IN STOCK)
Quantity in Basket:
None
Price:
$110.00
Shipping Weight:
1.00 pounds
Made for Pipeline by McCallum Bagpipes Scotland.

Flexistick Adjustable Length & Angle Blowpipe - (Now with more flexability in length choices, only available from Pipeline) - Is a precision made blowpipe that extends over a range of 1.5 inches (3 lengths/ranges available). It has a swivel joint which allows the player to angle the blowpipe for a more comfortable playing position. The projecting mount options are imitation ivory or black.
It has a number of component parts with which set it apart from other blowpipes:
Built in valve.
Swivel Joint:- loosen swivel cover and adjust to favoured position, then tighten firmly. Telescopic tube: - loosen locknut and extend to preferred position then tighten firmly.

Also available with a round mouthpiece - See Below.
We are often asked "What's the difference between a Flexistick and an Airstream Tilt blowpipe". The Flexistick is turned on a CNC machine and is made from the same durable plastic as used in a practice chanter, so the Flexistick is very strong. The Airstream Tilt is a mold injected product and is a more brittle plastic.