&raquo Bagpiper's Hard Shell Pipe Case (IN STOCK)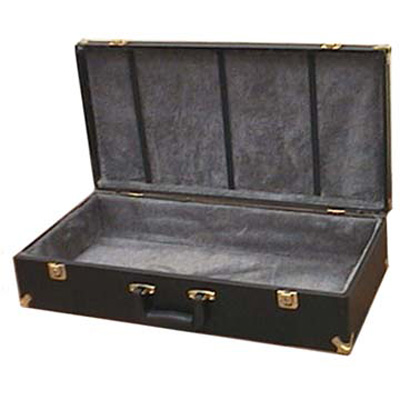 Bagpiper's Hard Shell Pipe Case (IN STOCK)
Quantity in Basket:
None
Price:
$95.00
Shipping Weight:
9.00 pounds
The Pipers Case - is made of lightweight plywood and covered with black vinyl on the outer surface and protective brass corners with a protective velor on the inside. There are elastic straps on the inside of the lid to hold music or a practice chanter. The hard-side bagpiper case measures 11.5" X 24" X 5". This pipe case has been designed to protect your instrument and also to provide enough space for such necessary articles such as music, practice chanter, reeds, and other accessories. These bagpipe cases are light in weight, but sturdy. They are easy to carry for adults and children.
The Piper's Case is ideal for pipes with synthetic bags, but when you use a hybrid bag plus water trap the case gets very tight and over time you may find that the blowpipe section of the pipe bag wears out as you have to bend it excessively in order to fit the pipes into the case, and there is almost no room for other piping supplies,
Whats the best way to store my pipes in a Piper's Pipe case?
Storing Your Bagpipes Correctly in Their Case
Customers come into the shop every day with bagpipes that are nicked, scratched and have broken and chipped mounts. Most of this damage is done by incorrectly storing the bagpipes in the pipe case.

Here is an inexpensive way to store and protect your bagpipes, and all you need is a towel.

Open the case

Place a large towel so that it drapes down both sides of the case and covers the bottom.

With the blowpipe and chanter removed, fold the pipe bag under the drones and place on top of the towel.

Tuck the bass drone under the towel. This will separate it from the tenor drones.

Use one flap of the towel to separate each tenor drone and the bass bottom section.

Place the blowpipe and pipe chanter on top of the flap separating the drones and cover with the other flap.

The pipes are covered and all the dead space inside the case is filled. All parts of your bagpipe are now secure and protected.

* Always remove the blowpipe and place a reed protectoron the pipe chanter when storing your bagpipes; it will allow the pipe bag and pipe chanter reed to dry and save the hemp on the blowpipe from rotting.