&raquo Fagerstrom Technopipes, (IN STOCK)
Hi Gerry,
I've had a couple weeks now to get acquainted with the Technopipes that you sold me and I absolutely love them. Thank you for your excellent and quick service in getting them to me. I was a a pipe student back in high school but fell out of it in college (dorms and beginner pipers do not mix) but the Technopipes have gotten me right back on the piping wagon. I strongly expect you'll be hearing from me again as Technopipes evolve back into the regular pipes.
Thank you so much,
Craig.
Technopipes arrived on time and are a great addition to my practicing efforts!
Thanks for the great service.
Ike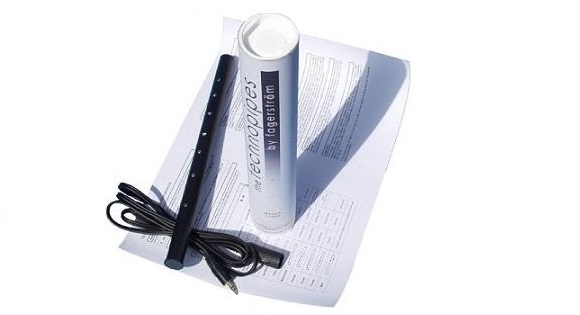 Fagerstrom Technopipes, (IN STOCK)
Quantity in Basket:
None
Price:
$350.00
Shipping Weight:
2.00 pounds
Fagerstrom Technopipes have an authentic bagpipe sound and are highly portable.

* Highly Portable. Fits in your pocket (5/8" by 10")
* Contains all the electronics including the battery.(no extra box to plug in)
* Uses Stereo Earphones: perfect to play on buses,trains etc. Ideal for the commuter.
* Unforgiving at detecting crossing noise.
* Authentic Highland Bagpipe and Scottish Smallpipe sound.
* Built in Metronome.
* Adjustable contact sensitivity.
* Pitch adjustable within a two octave range.
* Recording capabilities, with variable playback speed.
* MIDI output, (Musical Instrumental Digital Interface) an electronic protocol that enables electronic instruments synthesizers etc to communicate with each other.
* Touch controls for all settings.
* One year warranty.

INCLUDES: BATTERY and COMPLIMENTRY Black Stereo Earbud style headphones with a 46-inch length cable and a 3.5mm audio jack plug. Each earbud is individually wrapped and sealed.
PLEASE NOTE - The Earbuds supplied are Complimentry, you will get a much better sound by using a pair of Walkmen style stereo earphones or stereo herdphones with a 16 Ohm impedance and a 03.5mm plug.

Also available in the several VARIATIONS , including Northumbrian, Welsh, Asturian, French and more.

To connect your Technopipes electric bagpipes to an amplifier/PA system/mixer etc. Just remember; most PA system inputs are mono. What you will need then is a stereo to 2x mono splitter cable. Then you just use one of the mono contacts for connecting to the PA system, and let the other hang. Hi-Fi stores often have cables with a 3.5mm male stereo contact in one end and 2x mono phono contacts in the other. Of course, then you would probably need some adapter between the phono contact and your PA system. You will probably need to turn the volume of the Technopipes up all the way to get a good signal level. I myself have a Line 6 Micro Spider. It's quite cheap and has the ability to add reverb to the sound which makes quite a difference
Also check out the new
TechnoSpeaker
, available as an Add On for $20.