&raquo NEW Airstream Manometer (IN STOCK)
I can't say enough about this bagpipe Manometer, right a way it will show you, if your over blowing (which I do) or under blowing.In a short amount time, you can figure out exactly where your problem area's are!. Wow, thank you so much, I should brought this device years ago, I would be a lot further in my piping progression. Troye Downs,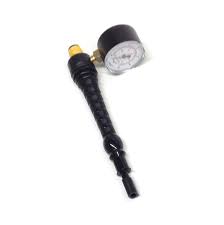 NEW Airstream Manometer (IN STOCK)
Quantity in Basket:
None
Price:
$110.00
Shipping Weight:
1.00 pounds
NEW Airstream Manometer
Teaching pipers to blow steady is no simple feat! The new Airstream Manometer is a helpful tool in doing so. We have taken an Airstream blowpipe, installed an adapter and measuring gauge to visually show the piper how they are doing at blowing their instrument steady. They can quickly see when the bag pressure is erratic and how the pipe sounds when played with consistent tone. This is a great item for teachers or bands with new players.