&raquo Bagpipe Pipe Bag by Gannaway Leather Zipper & Collars (IN STOCK)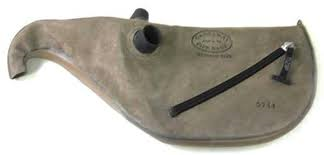 Bagpipe Pipe Bag by Gannaway Leather Zipper & Collars (IN STOCK)
Quantity in Basket:
None
Price:
$315.00
Shipping Weight:
2.00 pounds
Bagpipe Pipe Bag by Gannaway Leather Zipper Collars gives you SUPERIOR TONE. SUPERIOR COMFORT. SUPERIOR QUALITY.
The famous Gannaway genuine leather Pipe Bag, with angled zipper and rubber collars, played by many of the best Grade 1 Bands and Professional Solo Pipers worldwide.
Rubber collars for easy installation, and zipper enabling internal access for maintenance, easy dressing, and the use of moisture control systems, water traps, etc.
Available in Small (26" x 9 3/4"), Extended Small (28" x 9 3/4"), Medium (26" x 10 1/2"), Extended Medium (28" x 10 1/2"), and Large (27 1/2" x 11 1/2") sizes.
Includes full instructions, clamps, zip-lube, and Gannaway Leather Primer.
All Gannaway (Cowhide) Pipe Bags carry a two-year Warranty, covering Leather and Manufacturing Defects*.
Click Here for Instructions and Additional Infomation