&raquo McCallum Bagpipes - PC5IM & PC5N Long Length Deluxe Plastic Practice Chanter (IN STOCK)
McCallum Bagpipes - PC5IM & PC5N Long Length Deluxe Plastic Practice Chanter (IN STOCK)
Quantity in Basket:
None
Price:
$90.40
Shipping Weight:
0.80 pounds
McCallum Bagpipes - Long Length Plastic Practice Chanter this version is dressed up with a ferrule and sole. It has countersunk holes and is the same finger spacing as the Mccallum pipe chanter which makes for an easy transition from one instrument to the other. One reed is included.
Available with either a Nickel or Imitation Ivory mouthpiece ferrule.
What is a practice chanter?
The Practice chanter is the smaller instrument with which we learn the fingering technique for the notes in order to play tunes for the Great Highland bagpipe.
What are the parts of a practice chanter?
The practice chanter is made up of two main sections the Bottom Section and the Top Section.
The Bottom section may or may not have a sloe plate (A decorative mount) attached to the lower end, the bottom section has all the finger holes along its length, at its top there is a fitted joint consisting of a hemp binding or a rubber O ring, above the fitted joint is the reed seat (A small hole into which the practice reed is placed).
The Top section may or may not have a Ferrule (A decorative mount) placed at the lower end, the middle section of the top is the sound chamber and the top third is the mouthpiece into which you blow to make the reed vibrate.
How do you care for a practice chanter?
When you finish playing disassemble the top and bottom sections and carefully and remove the reed. Dry the interior of both sections with a small moisture absorbent brush or pipe cleaners.
Then dry the reed by holding it at the staple end and blow into the staple end in order to blow the moisture out then carefully dry the blades with a clean tissue.

NEVER leave your practice chanter in the sun or in a hot car as the chanter may warp or crack and the reed may melt.


Learn by doing!
Practice Chanter
The Low A and the High A should sound an octave apart, if this is off you can correct the pitch by: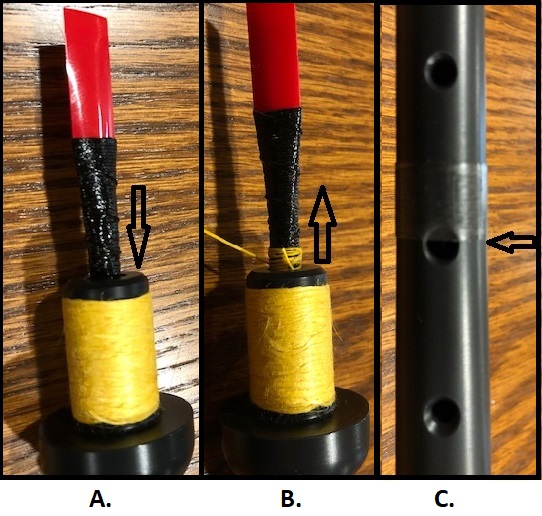 1. To raise the pitch - Place the reed further into the reed seat.
2. To lower the pitch - Raise the reed in the reed seat.
3. If a certain note is too sharp - A piece of tape placed over the hole will flatten the pitch