&raquo MacRae Bagpipes
If you'd like to buy bagpipes, we are featuring MacRae Bagpipes for sale that are an exact copy of Stuart Liddel's MacRae Bagpipes, one of the best sounding, most award winning instruments on the professional circuit.
Stuart played his new set of MacRae pipes at the Skye Gathering on 4-5th August, winning 1st in the March , 1st in the Strathspey and Reel and a 2nd in the 6/8 Marches. It was a packed field of top class players.

Following are some highlights from the official launch.

Clip 1
Clip 2
Clip 3
Clip 4
Clip 5


Please Note: All Blackwood sets come with an adjustable length blowpipe
which can be adjusted from 10" to 11.5"
If you need a different length blowpipe please contact us.
MacRae Bagpipes
Price:
$1,300.00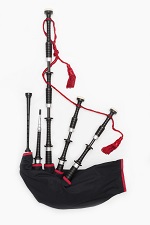 Price:
$1,315.00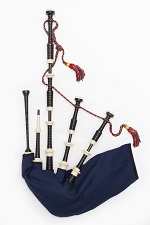 Price:
$1,385.00
Price:
$1,575.00

Price:
$125.00
You were right, Gerry. These MacRae pipes are wonderful! Thanks for your help.
Edgar