&raquo Fred Morrison Scottish Small Pipes Bellows Operated, Key A, Engraved Celtic, with Switch (IN STOCK)
Hello Gerry. I received my pipes today right on time. Thank you so much for everything! I will pass the word around about your shop and look forward to doing business with you in the future! The pipes sound and play brilliant! I could not be more happy with them! Thanks again for the speedy shipping and your kindness.
All the best,
Thomas Tate "Rusty
Hi Gerry,
Pipes arrived today. Many Thanks for getting them out so quickly. I put them through a four hour work out and they play very nicely, well tuned and great intonation and nice response with the octave A.
Again many thanks,
Charles
Hi Jerry,
Got my small pipes about a week ago and I can't tell you how much I have been enjoying them! They are absolutely a beautiful instrument. I am so glad you had them in stock! Anywhere else I looked was an 18-20 week wait! That would have totally screwed up my plan to work with them over the winter. So thanks to you, I know how I'm going to spend my time over the next few months. Thanks so much!
Alan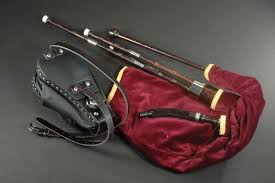 Fred Morrison Scottish Small Pipes Bellows Operated, Key A, Engraved Celtic, with Switch (IN STOCK)
Quantity in Basket:
None
Price:
$1,940.00
Shipping Weight:
15.00 pounds
Fred Morrison small pipes manufactured by McCallum. They are made of African blackwood, with Engraved Celtic nickel slides. Pipes include E-Z Drone reeds, Drone switch, synthetic bag, and bellows. Pipes in the key of A.
Fred Morrison Smallpipes are a beautifully crafted precision musical instrument with great sound quality. Smallpipes have a softer, mellower sound than the Highland pipes, making them ideal for playing at home or in a group setting where volume might be an issue. The fingering technique is the same as the Highland pipes and they are increasingly popular with Highland Pipers who wish to enrich their piping experience by trying something new.
The luxury hand made bellows are fully padded with hand-sewn plush leather cushions on the front and back to ensure comfort and ease of play. The bellows are made from the highest quality components to ensure many years of great playing.
The drone switch is something I could not do without. It shuts off the drones with a click of the lever and is of great assistance to the piper regardless of level of expertise and experience: The learner or first time bellows player is able to shut off the drones in order to focus on achieving and maintaining a steady sound on the chanter, for example, holding a low A and striving to maintain as steady a sound as possible whilst trying a simple slow air. As the player becomes more accustomed to the bellows, he can gradually bring in the drones and repeat these exercises. The drone switch is also very useful for the advanced or professional player who can switch on a beautiful chordal sound slickly and avoid a "growling up" effect. The switch also allows the piper to start/stop cleanly – especially when playing with other instruments – to bring in the drone sound as an added texture in a musical arrangement.. For players giving performances, the constant playing of the drones while the pipes are being tuned can be irritating to an audience. The drone switch is also of great benefit in allowing the piper to switch off the drones between tuning."
Click Here to watch Fred Morrison introduce and describe the pipes on YouTube.
* Please Note: As of January 2, 2017, African Blackwood was placed on the endangered species list by CITES. As a result, we will no longer be shipping any African Blackwood products outside the USA.