Home » Bagpipes, Accessories, CDs and DVDs » Bagpipe Bags, Covers & Cords &raquo New Design - Canmore Pipe Bag with Zipper & Water Trap (In Stock)
Good Morning Jerry……I was at your shop on Saturday morning where I purchased a new bag for my Pipes. I just wanted to thank you for your expertise and honesty. You are a true credit to your profession! I only wish I had come to you last year when I purchased my pipes. But unfortunately, I went to your competitors only because it was closer in proximity to Staten Island. I put my trust in someone who did not deserve it! It was a very expensive lesson but one well learned. Because of your suggestion of the small extended bag and reed, I am much more comfortable when playing and can actually play the tunes that I have been struggling with all year. Truth be told, I was about ready to give up playing entirely until visiting your shop. I cannot thank you enough. Be assured that I will advise the new students in our class ( and there are seven of them) to come to you when it is time for them to purchase their pipes. God Bless and thank you again for everything!!!
PS I also want to thank your wife for her help in the gift shop! You are both wonderful and I will definitely be a return customer!!!
Esther T. Bluett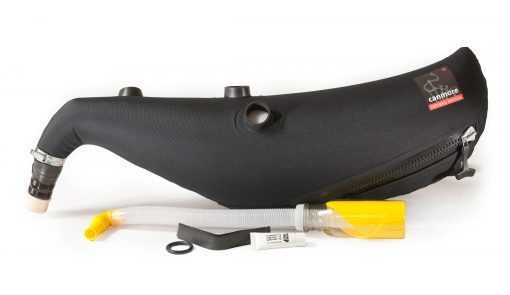 New Design - Canmore Pipe Bag with Zipper & Water Trap (In Stock)
Quantity in Basket:
None
Price:
$159.00
Shipping Weight:
1.00 pounds
Made from the original Technically advance GORE-TEX® fabric. This bag comes with 4 collars and zip for easy access to inside the bag. The bag comes supplied with a jubilee clip, O ring, tape, zip lubricant and a bottle trap for those who prefer to use this set up.
Small – 9 ½" x 26 ¼"
Extended Small – 9 ½" x 27 ¼"
Medium – 10 ¼" x 27 ¼"
Large – 11" x 28 ¼"
What's changed with the CANMORE® GORE-TEX® PIPE BAG?
New shape and sizes
New longer zip fitted on the angle
Neck cut back to relieve pressure on pipers arm
Now supplied with bottle trap
Highly Breathable